At GIDDI, our goal is to dispel the stigma often associated with prostate massage and other adult pleasure experiences. We aim to educate our audience on the pleasure and wellness benefits of adult pleasure experiences like prostate massage, and what makes the best prostate massager!
Several of our posts discuss the ins-and-outs of prostate milking, along with the Health & Wellness Benefits of Prostate Massage. We also discuss prostate massage from a straight and gay perspective in our articles, Demystifying Prostate Massage for Straight Men & Couples and Prostate Massage from a Top's Perspective.
For this post, we gathered some of our most popular questions about our Tomo Prostate Massager and provided detailed responses. Here we discuss:
What makes Tomo the best prostate massager?
What is Tomo's insertable length?
How do I use a Tomo Prostate Massager?
Is Tomo for solo or partner play?
Can Tomo be used hands-free?
Is Tomo for beginner or advanced users?
What type of lube should I use?
How do I charge Tomo?
So lets get to it...
What makes Tomo the best prostate massager?
When it comes to finding a prostate massager, there is no shortage of available options. Several factors play a role in figuring out what works best for you, including prostate massager size, shape, strength, functionality and price.
Tomo was awarded best value prostate massager by Gadget Review for scoring high on all of these factors. Learn more about why Gadget Review awarded Tomo with best value prostate massager in our article, GIDDI Awarded Best Overall and Best Value Prostate Massager.
Ultimately, the best prostate massager is the one that is the best fit for you. Our Tomo Prostate Massager combines a number of premium features at a competitive price, making it the best prostate massager on the market. More details below.
Perfect Size
Tomo's shaft has an insertable length of three inches, which is the optimal size to effectively massage (or "milk") the prostate. The diameter of Tomo's P-Spot head is just shy of 1.25 inches, an ideal girth for all users, especially beginners.
If you are looking for a prostate toy with more girth, we recommend checking out our award winning THOR Remote Control Prostate Massager.
Comfortable Shape
The curve of the Tomo prostate massager follows the natural curve of the body, making it a comfortable fit. The ergonomic shape of Tomo's backside fits nicely in the palm of your hand.
Come Hither Motion
Tomo's come hither motion provides direct prostate stimulation. The intense prostate massage from the come hither motion leads to mind-blowing orgasms. Tomo has nine modes of come hither speeds.
Powerful Vibration
A dual-motor provides nine powerful modes of vibration in both the P-Spot and External Head. The vibration mode can by toggled ON and OFF while enjoying the come hither motion.
Bang for Your Buck
Some prostate massagers can cost over $200.00 USD! At $98.99 USD, Tomo provides all the features and benefits that these more expensive devices do, at a much lower price. Premium features at an affordable price point make Tomo the best value on the market.
What is Tomo's insertable length and other specifications?
The insertable length of the Tomo prostate massager is 3.0 inches. The average prostate is located 2-3 inches inside the anal passage. Thus Tomo's insertable length is ideal for making contact with your prostate. Complete Tomo specifications are below.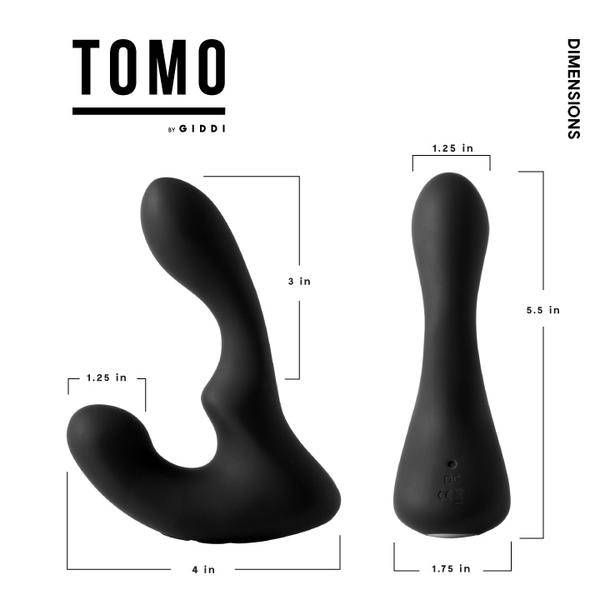 | | |
| --- | --- |
| | |
| | Medical Grade Silicone + ABS Plastic |
| | 5.5 x 4.0 x 1.2 inches / 140 x 100 x 30 mm |
| | |
| | |
| | 1.5 hours at 5.0V / 300mA |
| | |
| | |
| | |
How to use a Tomo Prostate Massager?
Many people enjoy using Tomo while lying on their back with knees up, or on their side in the fetal position. This will allow Tomo's curved shaft to follow the natural path to your prostate.
We recommend relaxing by caressing the sensual areas around your private zones while taking deep breaths. Feel free to use your fingers with lube to warm-up the sensitive areas prior to penetration. Make sure to use a water-based personal lubricant to lubricate Tomo and your private areas.
Carefully insert the P-Spot Head, ensuring that Tomo's shaft curves up towards your stomach. The secondary External Head should be located below your scrotum. The External Head massages the perineum, the area between your anus and scrotum, with strong vibrations. Gently massaging this area during ejaculation intensifies the orgasm in most cases.
Some men are able to orgasm from Tomo's prostate massage alone. Others enjoy masturbating while using Tomo. This typically enhances the orgasm and pleasure experience. Remember to never force insertion and always stop immediately if you feel pain.
Is Tomo for solo or partner play?
Customers sometimes ask if Tomo is meant for solo or partner play. The most simple and honest answer is, both. Tomo is an incredible pleasure device that can assist you and/or your partner in achieving mind-blowing orgasms.
Tomo's come hither motion provides hands-free prostate stimulation. This means that your hands can be taking other pleasure enhancing action! Your hands are free to touch yourself, your partner or both! Customers have shared that they enjoy using TOMO for solo and partner play.
Is Tomo a hands free prostate massager?
Due to the strong come hither motion, yes, Tomo can be enjoyed hands-free. However, hands-free is not the only way to enjoy Tomo. The hands-free ability is just an option that Tomo provides in your journey to maximum pleasure.
If going hands-free, carefully insert the P-Spot Head, ensuring that Tomo curves up toward your stomach. The secondary, External Head, should be located at the perineum, the area between the scrotum and anus. Gently massaging this area with the External Head provides add pleasure.
Is Tomo for beginner or advanced users?
Tomo can be enjoyed by both beginner and advanced users. The control buttons are simple to understand. The size and shape are often described as the perfect combination of length and girth. Tomo will most certainly help you find your P Spot and achieve intensely pleasurable orgasms.
What type of lube should I use?
Tomo, like the majority of pleasure devices, is made of body safe silicone. Silicone devices are best used with water-based personal lubricant.
With Tomo, we recommend trying Ride Water Based Lube, made with natural seaweed extracts so it won't become sticky or dry up quickly like many other competing water-based lubes.
For more information on lubes and their uses, see our blog post, Four Types of Lube and How to Use Them.
How do I charge Tomo?
A white USB charging cord is included in every Tomo box. Plug the charging cord into Tomo's DC port located on the back and the USB end into any 5V USB adapter or USB port found on any laptop/computer.
5V USB adapters are universal and commonly found with iPhones and other smartphones. The charging port is located on the backside of the unit and due to the waterproof design may appear as if the port is sealed.
Please gently push the charging cord into the port as shown in the image below.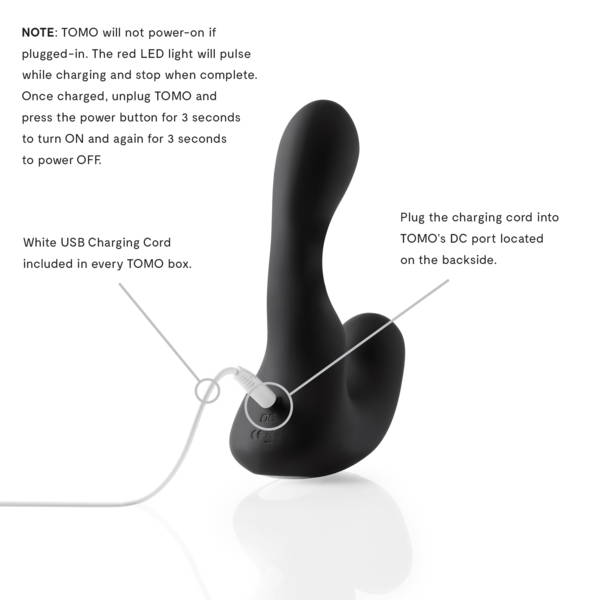 To learn more about the prostate along with the health & wellness benefits of prostate massage, check out our Inclusive Guide to Prostate Massage.
DISCLAIMER: The information provided here within is intended for your general knowledge only and is not a substitute for professional medical advice or treatment for specific medical conditions. You should not use this information to diagnose or treat a health problem or disease without consulting with a qualified healthcare provider. Please consult your healthcare provider with any questions or concerns you may have regarding your condition. Users of GIDDI products do so at their own risk. Neither GIDDI nor its associated interests assume any responsibility or liability for the use of GIDDI products. GIDDI reserves the right to revise this publication and to make changes from time to time in the contents here of without obligation to notify any person of such revisions or changes.